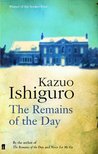 The Remains of the Day by Kazuo Ishiguro
My rating: 4 of 5 stars
"The evening's the best part of the day." Not always, in matters of the heart. This is one of the most deliciously ironic and bittersweet books I have ever read. Ishiguro does a masterful job of telling a story between the lines.